Chidamide
Chidamide is a subtype-selective histone deacetylase inhibitor with a novel chemical structure developed in 2002 by Chipscreen Ltd (Shenzhen, China), who have been granted global patents. It exerts anti-cancer effects through epigenetic regulation, in which Class I HDACs 1, 2, and 3 subtypes are selectively inhibited. Chidamide belongs to a new generation of epigenetic regulators and is a highly regarded new type of targeted cancer therapy that is mainly used for the treatment of solid tumors, lymphomas, and other hematopoietic tumors. Furthermore, its epigenetic regulation is a very promising mechanism that can be combined with endocrine drugs to reverse the drug resistance caused by the long-term use of endocrine inhibitors. Currently in Phase II clinical trials, it exerts a significant regulation on Treg and MDSC cell activity and enhances the efficacy of immune checkpoint inhibitors.
The first indication of chidamide in China is relapsed or refractory peripheral T-cell lymphoma, which received a CFDA Class 1.1 certificate of a pharmaceutical product (CPP) and the marketing authorization (MAA) on December 23, 2014. On February 11, 2015, the first prescription was made to treat relapsed and refractory peripheral T-cell lymphoma. In the two years up to February 2017, a total of 1,900 patients were treated, and significant efficacy was shown from the monotherapy or in combination with chemotherapy regimens. In multiple countries and areas including China, the United States, South Korea, Japan, and Taiwan, a number of clinical trials on chidamide are simultaneously in progress, showing a great developmental potential.
Basic data of chidamide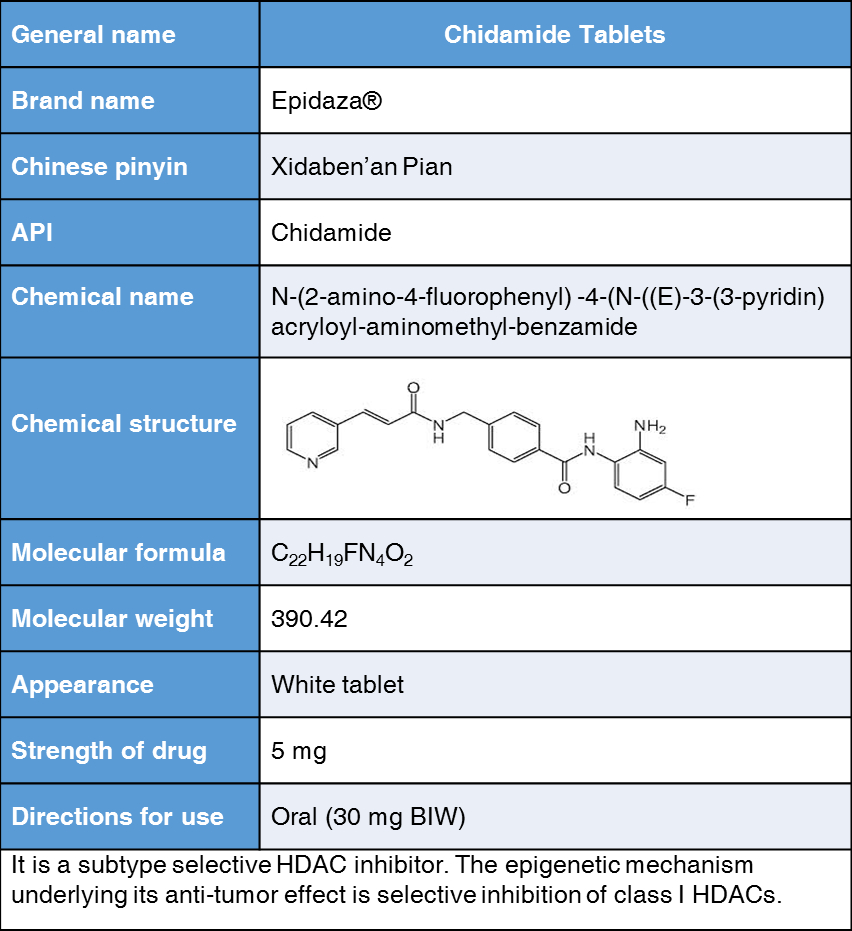 Patents and authorization of chidamide
Since 2003, when Chipscreen Ltd completed the development of a multi-national patent portfolio for chidamide, the company has granted license rights to several international new drug development companies and well-known large pharmaceutical companies. The international licensing is as follows: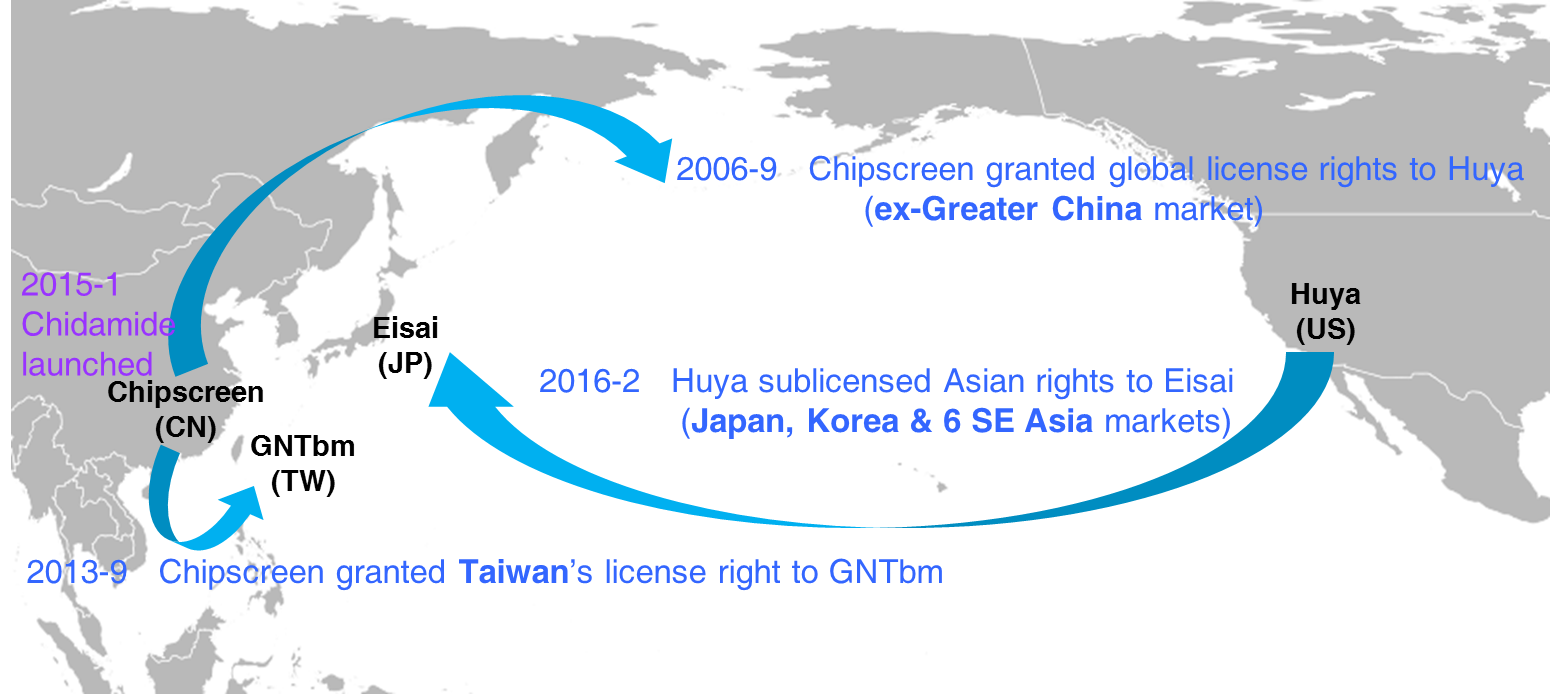 1. In 2006, Chipscreen granted global license rights (ex-Greater China market ---i.e. regions except mainland China, Hong Kong, and Taiwan) to HUYA Bioscience International.
2. In 2013, Chipscreen granted Taiwan's license right to GNTbm.
3. In 2016, HUYA Bioscience International sublicensed Asian rights to the Japanese company, Eisai (Japan, South Korea, and six southeast Asian countries).
4. Currently, chidamide is developed by four companies globally, which are collaborating.
Global development of chidamide
Chidamide is a subtype-selective HDAC inhibitor with a great developmental potential and is also a new generation epigenetic regulator. Currently, four new drug development companies and large pharmaceutical companies are developing multiple indications for chidamide and simultaneously conducting several clinical trials for the treatment of cancer and AIDS. International clinical trials of chidamide are underway simultaneously in a number of regions and countries by Chipscreen Ltd. (Shenzhen, China), GNTbm (Taiwan), HUYA (USA)
Table 1. Current ongoing clinical development status of chidamide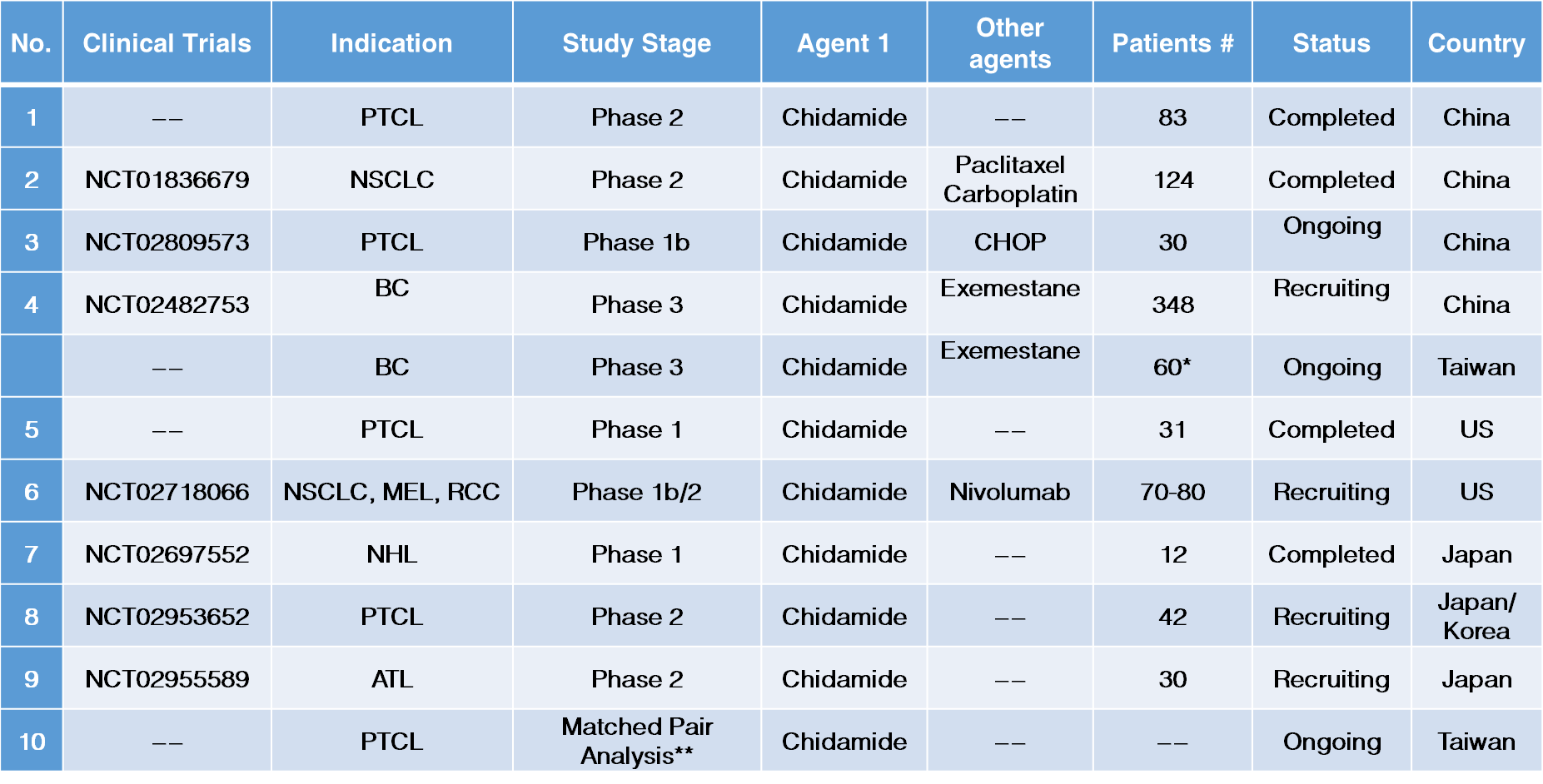 PTCL: Relapsed or Refractory peripheral T Cell Lymphoma; BC: Breast Cancer; NHL: Non-Hodgkin's Lymphoma; ATL: Relapsed or Refractory Adult T Cell Lymphoma; NSCLC: Non-Small Cell Lung Cancer; MEL: Melanoma; RCC: Renal Cell Carcinoma.
*: The BC Phase III clinical trial in Taiwan is based on the NCT02482753 design.
**: Retrospective pairwise comparison was conducted in Taiwan. Pairwise comparison between the Phase II clinical trial data from mainland China and data from Taiwan patients that received traditional chemotherapy regimen