Chidamide
Chidamide/Tucidinostat, a new chemical entity (NCE) developed and globally patented in 2002 by China's Chipscreen Biosciences, is a subtype-selective histone deacetylase inhibitor, suppressing HDACs 1, 2, 3, and 10 subtypes to achieve the epigenetic modulation mechanism of anti-cancer. It belongs to a new generation of epigenetic modulating agent, a currently very popular new anti-cancer targeted drug. Chidamide can be applied to the development for the treatment of solid tumors, lymphomas and leukemia, due to its epigenetic-regulating activity, a very unique and promising mechanism of action suitable for combination with endocrine therapy drugs to reverse the resistance caused by long-term use of endocrine inhibitors. Based on GNTbm extensive studies, Chidamide significantly regulates the cell activity and function of Treg and MDSC when combined with generic drug C, and can significantly increase the anti-cancer response rate when further combined with ICI.

Relapsed or refractory peripheral T-cell lymphoma (R/R PTCL) is the first indication developed and approved in China for Chidamide with a CFDA Certificate of 1.1 New Drug (CPP) and a Listing License (MAA) on December 23, 2014. On February 11, 2015, Chidamide was launched, and by February 2020 Chidamide was on the market for five years for treating more than thousands of R/R PTCL patients with either monotherapy or combined chemotherapy regimens, both showing significant efficacy outcomes. The epigenetic regulation mechanism of Chidamide significantly enhances the sensitivity to endocrine therapy, which was proven in the pivotal clinical phase III trial for advanced breast cancer in 2018. In November 2019, Chidamide in combination with exemestance, an aromatase inhibitor (AI), was approved by the NMPA in China for the second indication of Chidamide for treatment of breast cancer. Chidamide is the world's first epigenetic regulator proven to have therapeutic benefits in solid tumor. With high potential in anti-cancer therapy, Chidamide is currently under development in China, the United States, South Korea, Japan, Taiwan and other countries in a number of clinical trials.

It is expected that after 2021, Chidamide is to be launched in Japan, South Korea, Taiwan, six countries of Southeast Asia, the United States and Europe.
Basic data of chidamide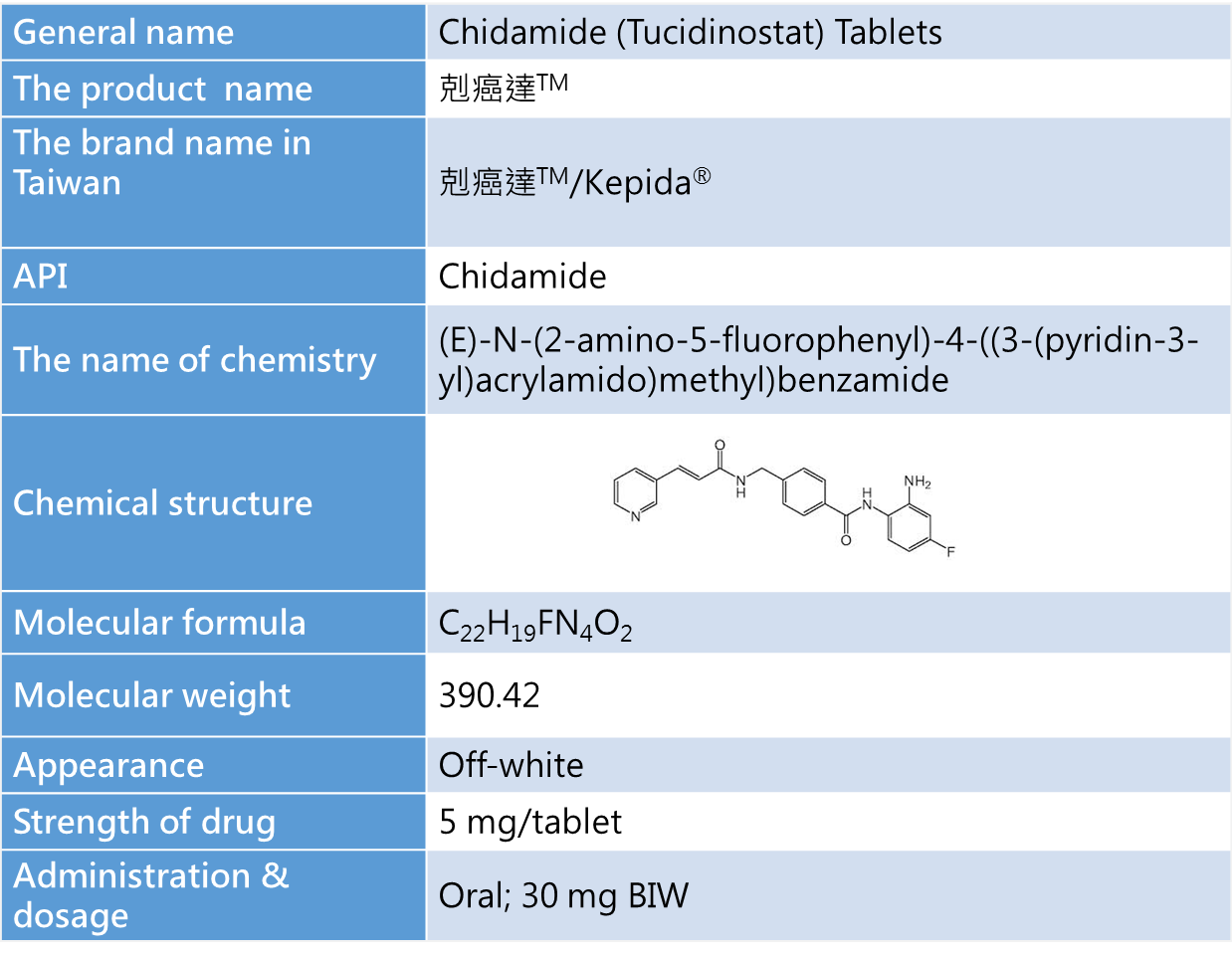 Chidamide Patent Licensing and Development
Since 2003 after completion of the global patent applications of Chidamide, Chipscreen Biosciences has authorized the patent rights to a number of new drug companies globally, including well-known large pharmaceutical companies. The international licensing and drug development are as follows:
In 2006, Chipscreen Biosciences granted patents outside China, Hong Kong and Taiwan to HUYA Bioscience International.
In 2013, Chipscreen Biosciences authorized Taiwan right to GNTbm.
In 2020, HUYA Bioscience International reauthorizes a total of eight countries, including Japan, Korea and Southeast Asia to Meiji Seika Pharma of Japan.
Chidamide is currently developed globally and owned by four pharmaceutical companies, cooperating with each other.
Global development of chidamide
Chidamide is a subtype-selective HDAC inhibitor with a great developmental potential and is also a new generation epigenetic regulator. Currently, four new drug development companies and large pharmaceutical companies are developing multiple indications for chidamide and simultaneously conducting several clinical trials for the treatment of cancer and AIDS. International clinical trials of chidamide are underway simultaneously in a number of regions and countries by Chipscreen Ltd. (Shenzhen, China), GNTbm (Taiwan), HUYA (USA)
Table 1. Current ongoing clinical development status of chidamide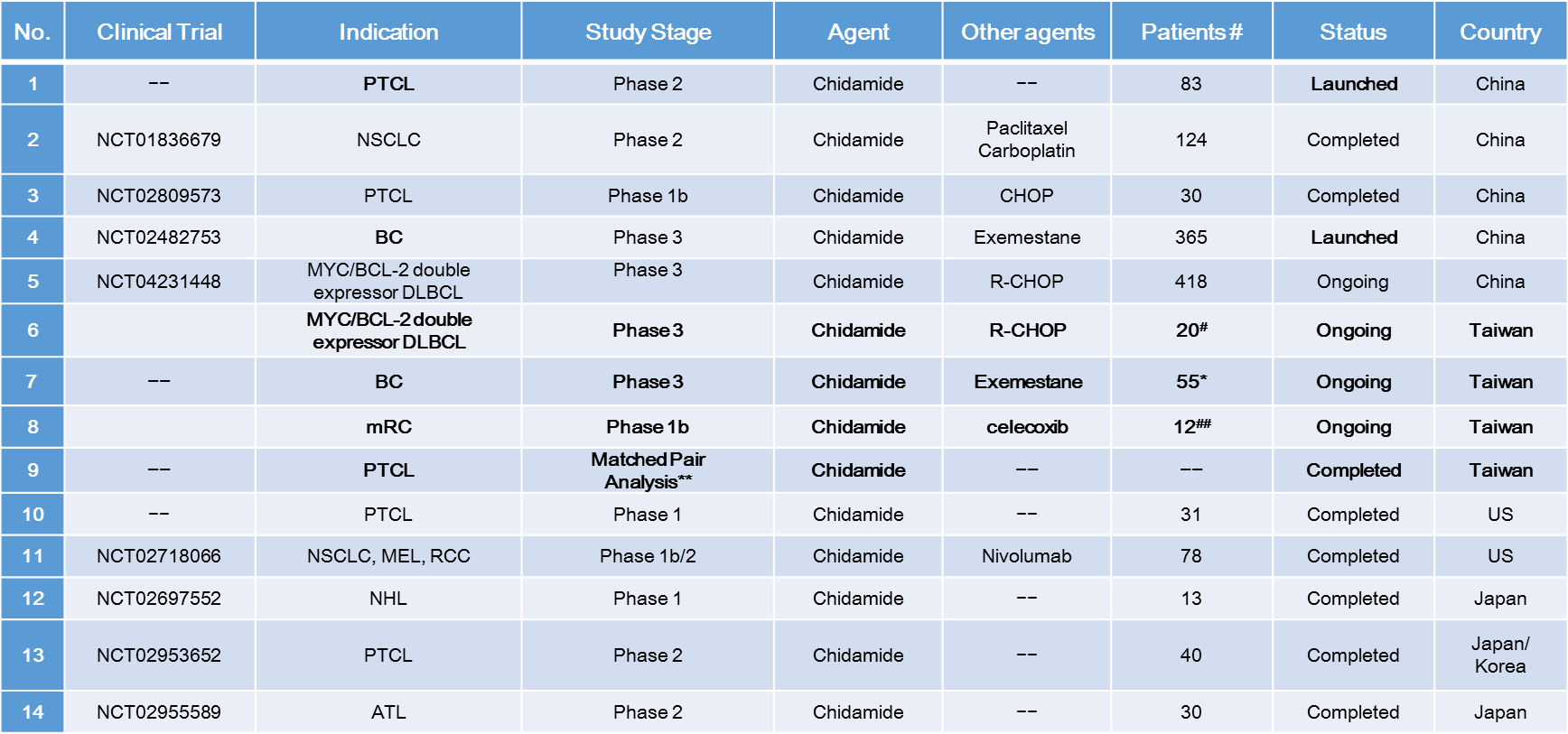 *GNTbm follows the same clinical trial protocol from Chipscreen Biosciences.
**Historical retrospective studies were based on TFDA/CDE recommendations.
#GNTbm and Chipscreen Biosciences will use the same clinical trial protocol.
##Initiated by clinical PI and sponsored by GNTbm (approved by IRB)
Taiwan: GNTbm
China: Chipscreen Biosciences
US: HUYA Bioscience International
Japan/Korea: HUYA/Meiji Seika Pharma